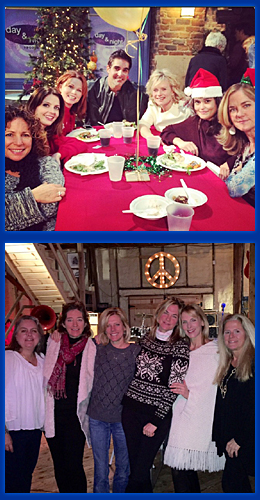 (January30, 2015) Happy 2015!
I'm sure many of you have been busy busy busy taking down your Christmas trees and preparing for 2015. I had a great holiday season.
I spent Thanksgiving in St. Pete's Florida with my brother John and the entire Wesley family. We always have a great time together. My brother lives on the bay and I could fish from his dock... it was so much fun! I came back to Los Angeles and worked for couple of weeks then headed to New York where I spent the last three weeks of the year. Christmas and New Year's are always festive up in the mountains with my cousins and family. Basically, we eat, ski, and party. Needless to say, I am always exhausted when they leave.
I am looking forward to seeing how the JJ/Eve/Paige story plays out. Oh yes… Let's not forget Jennifer Horton! I know it's been a little bumpy for some of you to watch the Eve/JJ situation… But all in good time the real drama will begin. I read in Soap Opera Digest that 85% of the people don't like the story. Well, you were not supposed to like it. There is something terribly wrong if a mother seduces her daughters boyfriend... right?
I am continuing to love my new job. A year ago this week I started this new adventure as Eve Donovan. The time has flown by and I am very happy to be back doing what I love. I sat and judged about 6 1/2 hours of Emmy reels this week and I have to say there are some powerful performances in 2014. I am very proud to be a part of the daytime community. I continue to be blown away by so many of my colleagues on all shows!
Have a happy and a healthy one…
Until next time… Kassie