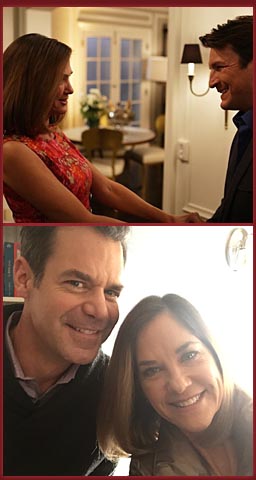 (February 8, 2016) The official Loveday of the world is coming up next week. So what better way to spend Valentine's Day with the one you love than watching Castle on ABC. You'll especially love this episode if you are a fan of the legendary One life to Live! It's going to be a fun filled hour and you know somebody is guilty. I've included some behind-the-scenes photos and scenes taken from the set. I have to say working with the wonderful Nathan Fillion is beyond joyous. And play again with the clever Tuc Watkins, as my husband, is priceless! Please tell all your friends to watch February 14! Another One Life connection… Is the infamous Alan Needleman (stage manager of One Life To Live)… Came to LA and was able to grab a bite with us. I just love that man.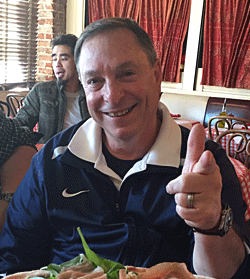 Jimmy and my dog (Mochi) have joined me out in Los Angeles where we will be spending the next few months auditioning and trying our luck out here in Hollywood. I have to say it's wonderful to have my husband beside me and my dog too. We have been doing fun things together and definitely enjoying the beautiful sunshine.
I want to take this opportunity to thank you all for being so supportive while I was on Days of Our Lives. I really had a great time there working with some phenomenal actors and feeling the love from wonderful fans. I'm grateful for every moment that I was there.
Until next time… Kassie
VIEW KASSIE'S BLOG PHOTOS LARGER