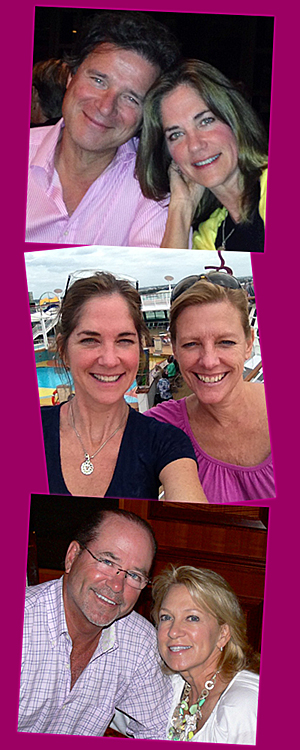 (November 23 , 2013) You leave the country for a week and a lot of things happen. Jim and I went on an awesome Caribbean cruise with rock 'n roll, Napa Valley wine, and friends. We left out of Tampa went to Cayman Islands, Cozumel, and Costa de Maya. It was a week of pure laughter. I traveled with my brother John and his wife Karen, our good friends Bob and Debbie Anderson and we couldn't have had a better time.
When I returned word on the street was One Life to live and All My Children were not going to continue production. That made me very sad. I know so much effort went towards making both shows a success. I am still waiting to hear what happened and why we are not continuing. Prospect Park worked very hard to get the shows on the Internet and for short time on cable. I had hoped for a better outcome for the shows because the fans really were happy to see them back. I guess all good things must come to an end. .
My favorite holiday… Thanksgiving… Is next week. Has this year flown by or what? I will be traveling with JQ and Jim to Louisville to have a feast with my family. It is always a joyous time to be back in Kentucky with my family. I wish each of you safe travels and a blessed Thanksgiving holiday.
I hope many of you will tune in to HSN on December 7, when Radiancy will launch the new NoNo pro. It will be an all day event on HSN. The NoNo would be an awesome Christmas gift!
I don't have much more to report… I'm auditioning and continuing to look for work. And like you I'm sure, I'm getting ready for the Christmas holidays. Thank you for all your wonderful comments on Twitter and Facebook and I hope to hear from you soon.
Until next time.... Kassie