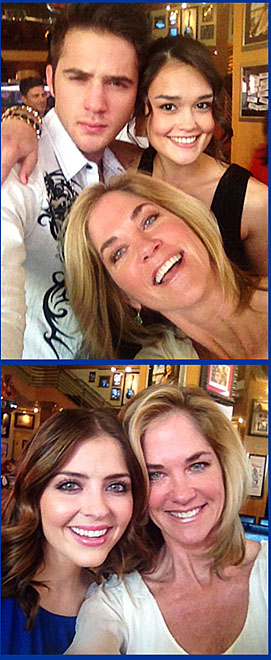 (November 9, 2014) Does
Days of Our Lives
know how to throw a party or what?!
I had such a good time at the annual Day of Days at Universal CityWalk this week in Los Angeles. I was joined by over 35 of my cast members to celebrate 49 years of Days airing. And to launch the new 50 year celebration logo. It was wonderful to see the great crowds of fans that showed up to support and celebrate. Many of you I know through Twitter and Facebook… But it was wonderful to put a face with the name.
Of course there were a lot of comments regarding last weeks airshows. Lovers and haters. Old Eve... is stirring up trouble in a big way in Salem. How could she sleep with her daughter's boyfriend you may ask? Believe me I had the same thoughts when I read it in the script! But that being said… I think it makes for great drama and tremendous soap opera storytelling! It was a challenge to find and connect with Eve as she took on this dark journey. After she found out she was never going to be able to sing again she was devastated. Unfortunately, JJ knocked on the door. She found comfort in the wrong arms. This HUGE MISTAKE will make big waves in Salem for months to come. So buckle up Days fans for a very bumpy ride.
The entire show is getting so good. If you need to catch up on some shows go to NBC.com. This month it's must see TV. Needless to say, I'm still enjoying my time on set and I hope that you are enjoying the character.
I'm looking forward to my favorite holiday Thanksgiving! I will be spending it with my family back east. And then again with my family at Christmas. I miss my boys daily. Thank goodness for face time. J Q is in the middle of his senior year. My how the time flies!
Many of you have asked about my music. You can get my CDs here on my website (www.kassiedepaiva.com). I was sad to hear that Eve will not be singing again. But here's hoping that Dr. Dan pulls a miracle out of his pocket down the road and restores her voice. I'm sure she will be singing the blues!
I always enjoy hearing your opinions, comments, and thoughts. Let me know what's going on.
Until next time… Kassie